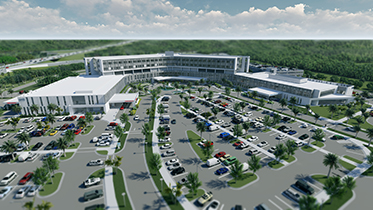 Click here to see the rendering video
Sarasota Memorial is bringing its 5-Star, affordable care closer to South County residents with a new state-of-the-art hospital on its 65-acre campus on Laurel and Pinebrook roads in Venice, Fl.

Opening the new Venice hospital will enhance care to the region and will have a significant economic impact, creating and sustaining jobs and livelihoods for hundreds of people and area businesses.
The new campus also will bring Sarasota Memorial's extensive physician base further south and will help build the medical staff for a future hospital in North Port.
Built to Grow with the Community
Sarasota Memorial Hospital - Venice, designed to allow for substantial future expansion, will initially include a 365,000-square-foot hospital featuring:
90 private suites for acute-care patients
20 private suites for patients under observation
28-bed Emergency Care Center
Surgical suites, including dedicated operating room for obstetrical patients and medically necessary C-sections
The new hospital will have the capacity to expand to 270 private patient suites and to double the size of the Emergency Care Center.
Comprehensive Care
Sarasota Memorial's Venice hospital will be a full-service, acute-care facility, offering a wide range of emergency and specialized services, surgical services, intensive care, rehabilitation services and many other programs, including:
Cardiology Units / Catheterization Labs
Critical Care / Intensive Care Units
Emergency Care
Endoscopy & other procedural areas
Gastroenterology
Labor & Delivery / Post-Partum Unit
Laboratory / Diagnostic Testing
Nephrology
Neurology / Neurosurgery
Oncology Unit & Infusion Services
Orthopedics
Pharmacy
Pulmonology
Radiology
Urology
Easy Access to Needed Services
The Sarasota Memorial Hospital - Venice campus also will feature:
A medical office building with physician practices.
A parking garage and ample surface parking to provide patients with convenient access to care.
Seamless care coordination and connection to the expertise and support of the entire Sarasota Memorial Health Care System via integrated information technology.
Hurricane Hardened
Sarasota Memorial Hospital - Venice will have advanced hurricane hardening up to codes that meet or exceed a Category 4 hurricane. The hospital also will include continually tested, back-up systems and powerful generators to help ensure continued operations when local power grids are compromised.
SMH also is working with the City of Venice and Sarasota County to include a community hurricane shelter on the Laurel Road campus.